Simscope automatically groups errors into Signatures
Simscope
captures
all
types of Verilog and SystemVerilog errors:
Functional errors

Data/transaction/model mismatches
Scoreboard errors
Overflow/underflow

Runtime errors

Assertions, coverage errors
Timing violations
Crashes/segfaults
Out of memory errors, disk errors
Timeouts

Compile errors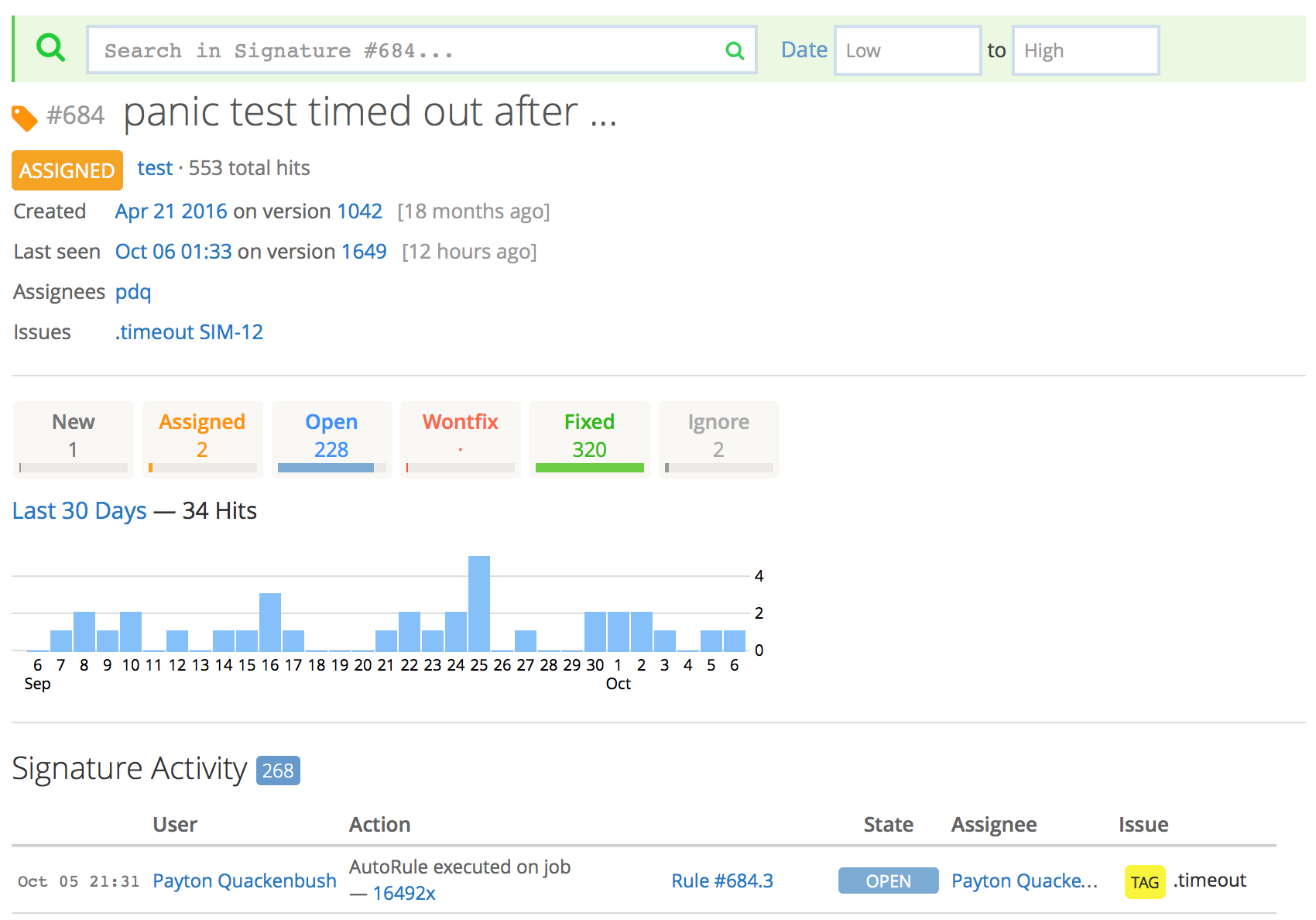 Sample SystemVerilog error
ncsim: *E,TRNULLID: NULL pointer dereference.
Sample Verilog compile error
ncvlog: *E,INTOVF (test.v,17|34): bit overflow during conversion from text [2.5(IEEE)] (10 bits).
→ Signature #100:
ncvlog ... INTOVF test.v ... bit overflow during conversion from text ... IEEE ... bits
Sample Verilog assertions
ncsim: *E,ASRTST (syn_fifo_psl.v,108): (time 49 NS)     Assertion fifo_tb.fifo.ERROR_readempty has failed
→ Signature #1011:
ncsim ... ASRTST syn_fifo_psl.v ... time ... NS Assertion [HIER].ERROR_readempty has failed
Sample UVM errors
UVM_ERROR        @ 305412ps   [uvm_test_top.subsys2.ovc_ref_model.scoreboard]: wr:<0051> wr_data:[0x00000168] rd:5'b011x1 rd_data:[0x000003e5]
→ Signature #240:
UVM_ERROR ... [HIER].scoreboard wr ... wr_data ... rd ... rd_data ...
Sample UVM error
    if (tx_pkt.mac_dst_addr != rx_pkt.mac_dst_addr) begin
        `uvm_error(get_name(), $psprintf("MAC_DST_ADDR MISMATCH!, Exp=0x%0x, Act=0x%0x",
                                         tx_pkt.mac_dst_addr, rx_pkt.mac_dst_addr))
    end
Work on groups of errors, rather than each individual error.
Diagnostics
Quickly see trends over time.
See the first checkin to trigger the error.
Break down by component and simulator.
Sort by runtime or cycles, to find the shortest simulations.
See who is working on it.
Advanced analysis
Analyze if specific plusargs are causing the error.
Rerun failures
For further debugging, users can easily rerun failures, with exact reproducibility:
Model source version (checkin)
Build target
Simulator
Config string/plusargs
Tracking PASS
Simscope also tracks
passing
simulations for analysis:
See when the last time a test passed.
View pass/fail rates.
Track CPS and other performance.
Simulators
Simscope is simulator-independent:
Synopsys VCS
Cadence NCSim